John enlisted in 1967 as he always felt it was his duty to serve his country. He was a true patriot in every sense of the word. While at Khe Sahn at the age of 18, John wrote a letter to my baby brother Bob, who was only 7 months old at the time. It was written just before the 26th Marines launched their assault on Hill 881 North. The letter was only to be opened in the event of John's death. John was wounded by mortar fire at the siege of Khe Sahn in April of 1968, where he received his first Purple Heart. After his death in September, the letter was opened by my parents. Our Congressman, Alexander Pirnie, read it and asked permission to read it in a Congressional session, where it is now a permanent part of the Congressional record. It was also run on the front page of our newspaper, The Rome Sentinel, whereupon the author Alex Haley ("Roots") called us and said that it touched him deeply that such thoughts could come from the mind of such a young boy. The letter and an article about John were again run on the front page of the newspaper on Veteran's Day in 1984. Here is the text of that letter exactly as he wrote it:

************************************************

Dear brother Bob:

I know that you won't be able to read this for awhile, but I just felt a compulsion to write to you anyway. I'm waiting to be picked up by helicopter with the rest of my buddies to push on to Hills 861, 881, 881 North, and 689. My platoon is spearheading the assault up Hill 881 North. The enemy has many soldiers up top and they are dug in as well as we are at Khe Sahn (a Viet Cong siege of U.S.Marines). It will be a hard and bitter struggle, but as always, we Marines will take the objective.

You are little now and haven't the slightest idea of what is going on in the world, but what we are doing here concerns all. It is important for you to remember that we are fighting for freedom for Viet Nam. The Bible says "I am my brother's keeper". This is also true for our Viet Nam brothers.

Someday, when you come of age, you too will render your services to your country. You do not have to join the Marine Corps because I did. Just fulfill your duty - your privilege. Yes, it is a privilege to fight for a noble cause. War is far, far worse than hell. Men are torn apart like a worn-out rag doll. War has a smell to it. It is the smell of charred flesh. War has sounds. They are the sounds of men dying. Bob - I hope that you will never have to go to war. I hope that we can stop this thing from spreading. I hope that the men of peace will sit down and discuss living in peace - but, alas, I hope in vain.

I am nearly going crazy thinking about assaulting that hill. But, I am a Marine and I shall not falter. I will be confident in the Lord and in my training as a Marine. Bob - if anything should happen, remember this: I am fighting for what I believe in - you, Mom, Dad, Tom and Cindy. I am fighting for the right to chose my own religion, make my own decisions, and to be my own man. And yes, I am fighting for my flag. My country means a lot to me and I am proud to fight for it. I know that you will be, too.

You know, I am over 18 years older than you and I have spent so little time with you. But, you are near to me not so much in my mind as in my heart.

I hope that your generation of people will respect what we are doing here. I hope that they will understand that we, too, love life. We have lost many friends and now it is time for the enemy to lose some.

We are United States Marines. We are the best troops in the world. We fight odds that are heavily against us - and win! Our spirit is indomitable, our courage unexcelled, and our loyalty is unquestionable.

I felt like writing to you. Perhaps it sounds foolish. Perhaps it is. But you can never imagine what it is like - not knowing if I'm coming back down that hill. I wanted you to have something from me to you. I love you, Bob, but you are too young to know it. Someday you will know.

I will leave now - time is short.

Love to you,

Brother John

*************************************************

My brother Bob was killed tragically in 1993 at the age of 26.
I know that he is in good hands and under the protective eye
of the 26th Marines.
Semper Fi, my brothers.......Love, Tom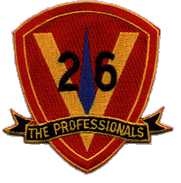 "The Professionals"