JANE&nbsp DIXON
REMEMBERING YOU AND THE GREATEST SACRIFICE THAT YOU GAVE FOR YOUR COUNTRY AND FELLOWMEN. GOD BLESS. JANIE
Nov 11, 2010

Linda&nbsp Wright
alwright60@comcast.net
Wife
119 Rigsby Cr. CARTHAGE Tn. 37030 USA
Saluting you on this Labor Day!
I know that Labor Day is to salute the working man, but I believe that there is no harder working man than the man in uniform, whether it be Military, Fireman, Policeman or etc. I pray for all of you and yours..God bless!
Sep 6, 2010

JANIE&nbsp DIXON
jalicej28@aol.com
wildwood fl
THINKING OF YOU ON THIS MEMRIAL DAY.THANK YOU JIMMY YOU GAVE YOUR ALL.
May 31, 2010

Linda  Wright
alwright60@comcast.net
wife
119 Rigsby Cr. Carthage Tn. 37030 USA
To My Beloved Jimmy! God bless you!
You Tube Presentation
Well another year and we are back at Memorial Day again. Just came by to say thanks and I love you as always and miss you more and more as the years pass. I want to say thanks again Jimmy for what you and so many others like you have done for our great country..God bless and all my love always, Your loving wife. Linda
May 30, 2010

Linda  Wright
alwright60@comcast.net
Wife
119 Rigsby Cr. Carthage Tn. 37030 USA
God Bless You My Love!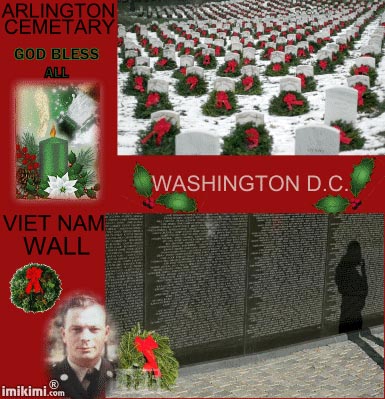 Just came by to wish you a Merry Christmas my love..I miss you more and more as the years pass.I will never forget the sacrifice you and so many like you have made for us all..Many can't appreciate what all of you have done, but I for one do and I know many more that do. God bless you..Merry Christmas!
Dec 13, 2009

Linda  (Johnson)Wright
alwright60@comcast.net
wife
119 Rigsby Cr. Carthage Tn 37030 USA
God Bless!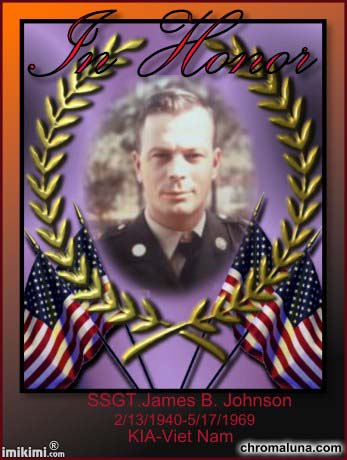 God Bless you Jimmy and so many brave men like you..I love you with all my heart.
Sep 10, 2009

Linda  Wright(Johnson)
alwright60@comcast.net
Wife
119 Rigsby Circle Carthage Tn 37030 USA
'To My Beloved'
I just came by to say once again Jimmy how grateful I am for what you and so many others have done to keep the freedom of this great country..God bless you and thank you so very much.. All my love to you and I miss you deeply.
Jul 4, 2009

Hank&nbsp Parker
hnpark1@msn.com
Officer
724 Warm Springs Ave Boise Idaho 83712 USA
SSgt.Johnson, Jimmy it was forty years ago today that you gave your life for your country. When I visit you at the Wall this year on Veteran's Day it will be with the knowledge that I have had such wonderful contact with your wife and daughter that you read to me from your letter just before your death. Lisa looks like you and she and your wife Linda mourn for you but also now with the knowledge that your men have never forgotten you or your sacrifice. Peace to you Jimmy a Hero from the B Battery Bull's 5th 27th Artillery. I will along with the other men of B Battery, Honor you and our other Heroes on Memorial Day. Your sacarfice will never be forgotten. Capt. Hank Parker
May 17, 2009

Linda&nbsp Wright(Johnson)
alwright60@comcast.net
Wife
119 Rigsby Cr. CARTHAGE Tn 37030 USA
Thank all of you for everything you have done for this great country of ours..I know you are all walking with God and watching over us still..God Bless each and everyone of you!
May 16, 2009

Lisa  Hammond
marlis1@bellsouth.net
Daughter
4942 ALPINE CT WINSTON GA 30187 USA
A letter to my Hero
To my father, even though I never got to meet you, I always lived my life knowing that you loved me. I am very proud that I had a father that fought for his country and in my heart I know that you would have been a great father to me. I have heard a lot of stories from mom about how excited you were that you were having a girl and I feel that I would have been extremely spoiled. I have a friends that wrote and sings a song call 'The Wall' To anyone that reads this If you would like a copy of this song please email me and I will email a copy back to you. Dad although I never got to meet you, I love you and I feel you are watching over me everyday and that makes me feel safe and secure. May God watch over our troops and keep them safe. Lisa Johnson Hammond
May 3, 2009